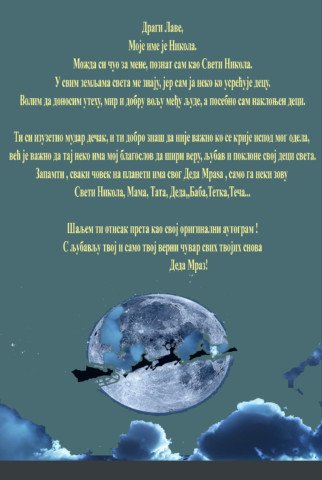 OD DEDA MRAZA ZA VAŠE DETE
Kako da napravite odgovor od Deda mraza sami i da to bude lepo i originalno?!
-U photoshopu napravite fotografiju sa tekstom po želji . Moj predlog je tekst koji ćete moći da koristite za celu familiju 🙂 ,samo uz promenu imena i pola deteta.
Detaljan opis imate u videima ispod teksta kako to mozete lako odraditi , bez ičije pomoći.
-U fotografskoj radnji odradite fotografiju formata 10×15 ,to je 18-20 rsd.
-Kupite ram za željeni format, cene se krecu od 200-400 rsd.
-I potrebna Vam je jedna crvena tempera,kako biste napravili otisak prsta ispod teksta,važno je da Vam prst ne bude vlažan ,kako se ne bi skinula boja sa foto papira. Umočite kažiprst u temperu i otisnite na fotografiju.
Autor: KIDS_DECOR_LOVE